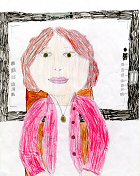 Mrs Gusterson
I've been at CDPS since 2007 and although I started my career in the UK, most of my teaching experience has now been in Wellington. The school has grown a lot in that time, but our core values and commitment to relationships with children and their families has stayed the same. This is what I love about our school. 
I'm Deputy Principal, spending half of my time in classrooms, working with children and half helping run the school. I am also, currently, the elected staff representative on our Board of Trustees. I wear a lot of different 'hats' at school but enjoy the variety of moving from planning the strategic direction of the school, to working with individual children. 
My teaching passion is Philosophy for Children and I also put a lot of time and effort into our school bush area. I live with my husband in Island Bay and have two older daughters, now both at university.
Contact email:This email address is being protected from spambots. You need JavaScript enabled to view it.